Praying for the land

I was in Fort McMurray again this weekend for the fifth and final Healing Walk past a Syncrude upgrader and tailings ponds. Hundreds of people came to gather, to reconnect with each other and the damaged land and to pray for healing.
Rupture of Aging Tar Sands Pipeline Beneath Great Lakes Would Devastate People, Planet and Economy
Because the strong currents in the Straits of Mackinac reverse direction every few days, a rupture of the oil pipeline beneath the channel would quickly contaminate shorelines miles away in both lakes Michigan and Huron.
SEE MORE:
http://ecowatch.com/2014/07/11/pipeline-rupture-beneath-great-lakes-devastate-people-planet/
(via ecowatchorg)
Higher Cancer Rates and Tainted Local Foods Linked to Tar Sands Operations

A new study released by two Alberta First Nations communities in partnership with the University of Manitoba reports that certain carcinogens released in tar sands operations are being found in high levels in local wildlife.

SEE MORE:

http://ecowatch.com/2014/07/08/cancer-tainted-foods-linked-tar-sands/
(via ecowatchorg)
According to the poll, conducted by Environics and commissioned by Environmental Defence, 41 per cent of Canadians believe the importance of the oilsands to the economy is six to 24 times higher than it actually is. And a full 57 per cent of Canadians overestimate the value of oilsands to the country's economy.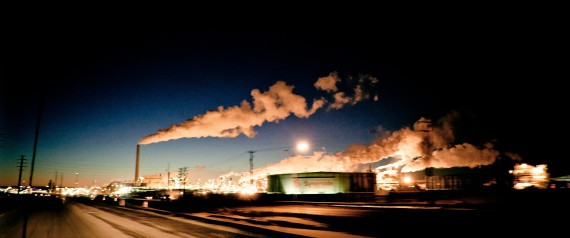 We at the TSES are delighted to be participating in the Big on Bloor Festival in our own west-end Toronto neighbourhood. Please stop by and join us anytime on July 19 or 20. We will be parked on Bloor near Dufferin St and the ice-cream truck.
With the recent approval of the Northern Gateway Pipeline the Canadian government opened the theoretical floodgates for bitumen to travel from the oil sands of Northern Alberta, through the Rocky mountains of British Columbia and then out to the coast were it will be transported by ship through a tight network of channels out to the ocean and onto Eastern markets. While some are disappointed and angry about the Canadian government's decision, many others considered the approval to be a forgone conclusion months ago. Indigenous groups, the province of BC and a number of environmental organizations are now exploring their legal options for putting a halt to project before it even begins. These forthcoming challenges are further complexified by the 209 guidelines handed down to Enbridge (the company who are the masterminds behind the proposed line) earlier this year and which must also be met before construction can begin. While the left and the right seem to be unable to reach a consensus on the need, value and risks of the proposed project they all seem unanimous in their agreement that it will likely be years before the project can proceed, if it ever even happens at all.
Despite all the interesting debate about the project we at the TSES have found ourselves surprisingly sidelined by the linguistic landscape created by and around the Northern Gateway Pipeline. The implications of the word Northern seems clear- it is meant to illicit feelings of Canadian nationalism but is also a nod to the remoteness of the line, passively relying upon the fact that most Canadians live in the southern part of the country which will be largely unaffected by the pipeline, to garner support for the project. The word gateway however is an entirely different matter. A gateway if of course an entrance or passage. It is a point from which something is released, a point from which something could be contained. Like our van, the TSES and most of its creators were born during the 1980s during an era when children were subjected to a popular television format known as the afterschool special. Afterschool specials typically addressed a serious issue that impacted youth and was magically resolved in 60 minutes. By far the most popular afterschool special theme was drug use. In most specials about drug use, marijuana is depicted as the gateway drug that leads a seemingly normal kid from a life of recreational sport and family dinners to an existence dominated by rage, apathy and usually a revelatory stealing of money from a younger sibling. Perhaps like an afterschool special, the pipeline is the weed, the gateway drug, that we Canadians are faced with today. Like the confused youth of the afterschool special we are simultaneously terrified and intrigued. We want to be cool, to impress our older friends (America and China perhaps?) but we also have pretty traditional values (and some important Traditional Knowledge) that simply doesn't line up with our new interest. And if the Northern Gateway Pipeline is really just a path, a door being opened to other pipelines, then that leads us to wonder what kind of things this will all lead to…
Today's decision on whether to go ahead with the planned pipeline from Alberta through BC is the most momentous in Harper's eight years in power. As we await the final word, take a look at this great brief article from the Star about the risks and benefits of approval. Also features lots of great video content generated about the proposed pipeline.
Trading Routes: Grease Trails, Oil Futures is a SSHRC-funded Research / Creation project focused on the intersecting geographies of aboriginal trade routes, Coast Salish "grease trails", and proposed Alberta-British Columbia oil pipeline. Through collaboration between a multidisciplinary research team and the communities along the trading routes it aims to share and create knowledge about a specific geography and our relationships with it. Trading Routes' multidisciplinary research team draws on expertise in artistic practice, cultural theory, and education to examine contemporary art as a platform for vital knowledge production and mobilization.